Once that is done, you can kick back, and click the "OK" button and sip some coffee while Photoshop creates page after page of little image thumbnails.
While you are consuming caffeine, Photoshop is actually opening each image within the designated folder, re-sizing it according to your wishes, and placing on a sheet. This can take some time, but is always far easier than doing it yourself. You can always hit the "escape" key to exit the function at any time.
Each contact sheet becomes its own document, and Photoshop adds photos until there is no more room on the sheet, then it will create a new document and begin filling that one. All of the documents are left open in Photoshop, until you do something with them.
Save, print, view or just enjoy these little works of art.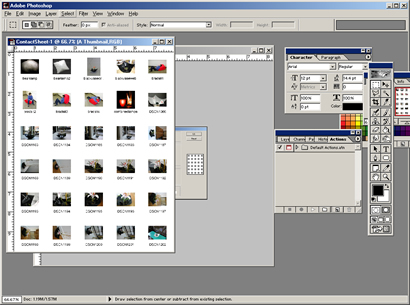 A Photoshop screen capture showing a completed contact sheet.
Easy huh? Those of you who have not gotten into digital photography will find little use for this function, but those of who have, know just how cool it can be. The world is your oyster now!
Some other things you may want to know:
Photoshop uses your file names as titles small titles under each one of your thumbnails. This is great if you have a digital camera and are too lazy to try to sort though all of your images, and try to remember that image #111048754762937 is the one that you want to use.
Don't do this with 40 other applications running, or if your computer sucks. It will crash.
Don't do this with a set of photos bigger than about 200. Whether your computer sucks or not, it will crash.
Any photo format (Jpegs, Tiffs, Gifs, etc), Vector drawings, PDF's, and other Photoshop documents can all be processed in a contact sheet. If you can open it in Photoshop, it will work with this automatic process.
Other things you can do
This is just one of the pre-made automatic functions that Photoshop has, there are several more in the "Automate" menu. You can even make your own functions, using what is called a "Batch Process." You know, for all of those times you want to rotate all your images 45 degrees and put a lens flair on all them, so you can tell your friends that you are a "real" photographer.
I'd love to get into batch processing, but I feel as though I've rambled long enough. It may very well be another part of this series as a related topic, if I'm ever allowed to write again. Contact sheets are a baby step into the automatic functions of Photoshop. So, hopefully you found this helpful, and will use it to spend more time doing cool stuff with computer art or design.
About the Author
Jen Beyer is an experienced exhibit designer that has worked with renouned museums around the country. She now runs her own company, Good Design Group, building set exhibits for companies such as Andrew J. Blackbird Museum, Punxsutawney, Harbor Springs Area Historical Society Museum.
Check out some of her work at their website above, or you can e-mail her at: jen@gooddesigngroup.com.
Here are some similar arcade posts
If you enjoyed this post, please consider to leave a comment or subscribe to the feed and get future articles delivered to your feed reader.