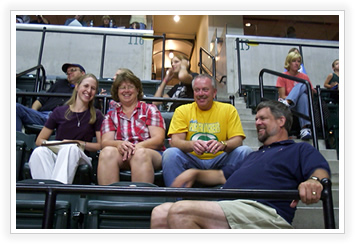 Sarah emailed me about 2:00 at work on Friday to see if I wanted to go to a Fever game with the Johnson's from School. I like Paul and hanging out with their family in general, plus I thought it would be a cool new experience. Plus, they had free tickets which is always the big factor, so I figured why not?
It was so awesome to go inside of the Conseco field house, it was so huge in there. And although it was fun once, I probably would only go for free again.
The Fever played the Stars and even though their competition outplayed them and won, both of the teams looked like a high school basketball game with a bunch of really tall drunk girls. I was blown away by how bad they both were, so it's no wonder the league is struggling.
But I imagine with a venue that isn't being used during the summer months anyway, why not have something coming in until the Pacers start up their season again?
It's been three years today that all of America's world was turned upside down, and although I was naive at the time to think it wouldn't affect me, it has shaped my life and opinions in ways I didn't think possible. So, take a moment, and remember those that have fallen on our soil and "theirs" so we aren't naive enough to think it won't ever happen again, but that it won't happen ever again in our generation.
Here are some similar arcade posts
If you enjoyed this post, please consider to leave a comment or subscribe to the feed and get future articles delivered to your feed reader.