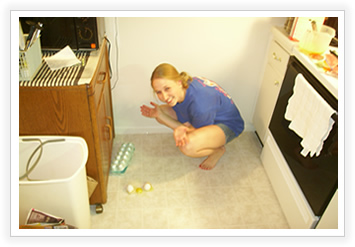 She asked, "What do you want for dinner? Hot Dogs or Breakfast?"
Of course I answered "Breakfast!"
Well, during her crazy process (see below) of twirling and spinning she dropped the eggs all over the floor. "Those egg whites are the best to clean up, just second to dog vomit but more slippery" she said. Oh how very, very true.
To me, breakfast means pancakes. But to Sarah, it means there has to be a meat and eggs with it too. Plus, she won't eat pancakes because they are too soft, so she needs to make waffles. So, there is all this food that is really better hot, and it sits on your plate, waiting to be eaten. It's not breakfast for dinner, but rather "And they're off" to see who can get the sickest first.
Here are some similar arcade posts
If you enjoyed this post, please consider to leave a comment or subscribe to the feed and get future articles delivered to your feed reader.