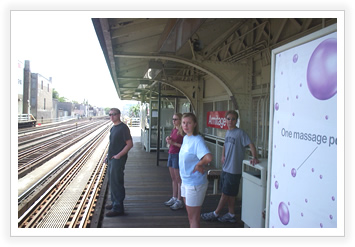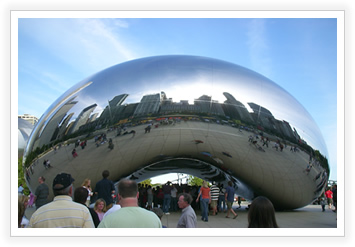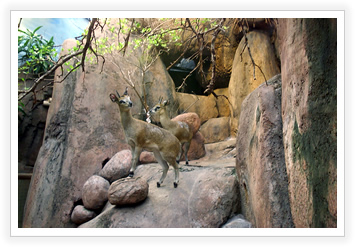 The Varners got married in early June, and wanting to see how married life was treating them, we arranged a trip to stay with Sarah's cousin Tim Gallagher in Chicago.
It was a lot of fun. Friday we got there really late, and I got to see Barry Bond's 700th homer. Then, we went out and met one of Tim's roommates at the bar. Packed, but fun, it was a lot like old times. When we got back, we stayed up till 4:30 just talking.
Saturday we met up with Sarah's sister Emily, who is going to Riverforest Chicago, downtown. Above is a picture of us just before getting on the "el". We learned the "el" was finished in 1897, just 26 years after the great fire in Chicago that nearly wiped the city out. We went to the Museum of Contemporary Photography, to the Celtic Fest, and through Millennium Park.
In Millennium Park, there is this enormous Chrome freestanding sculpture called "The Bean" as it looks just like one. Funny to think about, it was really breathtaking to see the skyline reflected in it from every direction.
Later that night we went to Second Hand City, and saw some very politically charged sketch comedy in this run down old stage room. Apparently John Belushi and Ed Ashner started there. I wasn't all that thrilled, but worth a try once.
Sunday we slept in for a little while. We went to the Chicago zoo, and later we went to Emily's campus and saw where she was staying and met some of her friends. We finished the night off at Olive Garden before finally getting home at 2 a.m., ouch!
Here are some similar arcade posts
If you enjoyed this post, please consider to leave a comment or subscribe to the feed and get future articles delivered to your feed reader.