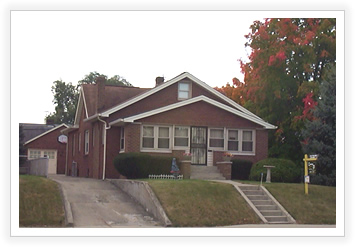 This is another house we looked at last week, on a last minute notice as our realtor called up and arranged a showing on the spot, that was intriguing.
An older home that had been kept up really nice, there was new carpet and huge rooms. Both the dining room and living room were enormous with two large bedrooms. The upstairs reminded me of my Aunt Pat's old house, just large enough maybe for a daybed and an unfinished attic that could be made into a perfect playroom.
It had a lot of character. There was a back exit out of the driveway to the alley behind the house. There was an enormous walk through closet from the dining room to one of the bedrooms and it had built in shelves and a enclosed porch.
The only downside was the price, and I didn't have the emotional reaction I did to the other house in Beech Grove. As much as I liked the inside of this house, I almost couldn't picture myself living there. But if it is still on the market in a couple of months and comes down in price significantly, it is enough of a "move in" house that I would consider it.
Here are some similar arcade posts
If you enjoyed this post, please consider to leave a comment or subscribe to the feed and get future articles delivered to your feed reader.