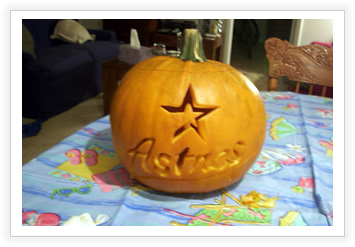 This was a pain, and hopefully, it isn't an omen.
Sarah has asked me twice why I am cheering for the Astros in the Championship series, and I am not. But they have a much cooler and easier symbol to attempt to carve on a pumpkin, or so I thought.
About 3.5 hours later, and stiff neck I was finished. I never remembered curves being as hard as they were, and this seemed like a larger sized carving when I began, but by the end I knew it was pretty small as I was cutting out little slivers just to get the curves to be perfect.
Stay tuned for more pics from this past Sunday and information about our time with the Buissons.
Here are some similar arcade posts
If you enjoyed this post, please consider to leave a comment or subscribe to the feed and get future articles delivered to your feed reader.