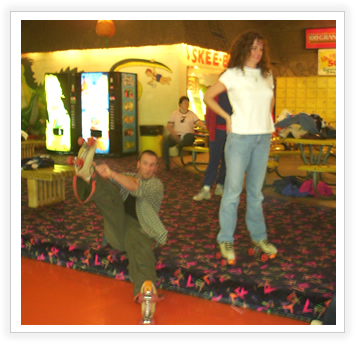 Not a particularly great picture, but out of the whole evening, which included having Christine and her little chicas over for lunch, going roller skating with the school, and then going out to the bar afterwards with the faculty, this is the best picture I got that wasn't beyond blurry.
We had Christine and her daughters over for Simpsons trivia and a dinner full of giggles and little girl chatter on everything from
boys and the definition of "puberty" is to movies and owning exotic animals like raccoons. We were all going to go roller skating, but then Sarah and I got held up, for me something with work I had to help out, and Sarah was trying to clean up the apartment.
By the time we finally got to the roller rink, there were only :45 minutes left, and I had planned on skating, but wasn't going to pay to skate for only that long. Fortunately Mr. Herre had gotten skates, and had 12 size shoes. It was a blast to do that again, hard at first being back on four squarely set wheels instead of four in a row on my blades, but great none the less.
Then we went to that bar and watched the Yankees kick the hell out of the Red Sox, who have all but rolled over.
Here are some similar arcade posts
If you enjoyed this post, please consider to leave a comment or subscribe to the feed and get future articles delivered to your feed reader.