Well, I am back. The Ohio Comic Con was a total blast, much due to the company I was with, Christine Mulligan.
The plan, like I posted here, was to leave at 2 a.m. Saturday and get to Columbus OH by 5 a.m. to get in line early enough to get a sketch from Adam Hughes. Christine wanted to meet the legendary John Byrne, so she was cool with that. On Friday night I headed off to sleep at 8 p.m. trying to get a reasonable night's rest. Staying up until 2 a.m. usually squashed that idea. I rolled around in bed until about 9:30, got up, watched some TV hoping to fall asleep, but didn't and long and the short of the story was that we overslept as Christine was left outside. Bless her soul, she was understanding, and we were on the road at 2:30 a.m.
If you aren't familiar with Adam's work, here is his most recent cover on Tomb Raider 47.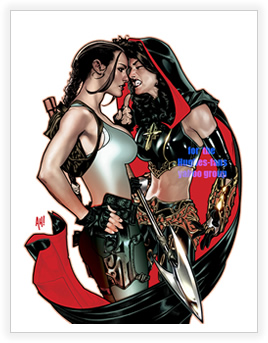 We got there at 5:30 with what looked like no one in sight. However, there was one guy in line already named Jason. We hung out until 6:30 playing cards until another guy came down, David. Then there was really just us four until 7:30 – 8 a.m. and then the place got crazy, even more so then last year. It was uncomfortable at best. Here is a photo before the third line in the middle began and all of the dealers with their huge carts and everything started pushing through the crowds. That is David with
his back to us.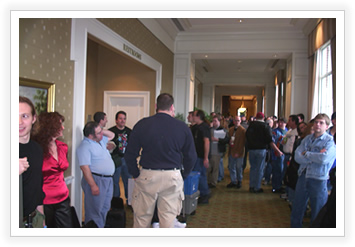 When they finally let in the advance tickets holders, we ran for Adam's table. There were about 8-10 exhibitors in line but I managed to get up to sixth in line, and Jason was 12th. I wish everyone was honest, and I don't know that anyone there wasn't so it was hard to be that far back after getting up so far in line and arriving so early. I talked to Allison (Adam's girlfriend and manager) and Adam about making a switch if necessary to make sure Jason got his sketch since he truly was before me and she appreciated the honesty.
Christine and I then met Jeff Smith from Bone, who was really awesomely nice, doing free sketches for these two children who were in front of Christine that were big fans of his wildly popular self-published book "Bone". This is the best picture I got of them.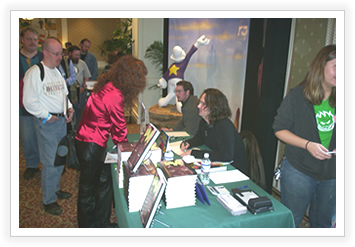 Then we kind of wandered around and did different things, checking out other artwork and doing a little bit of shopping. At 1 p.m. we went to the cover artist panel with Adam Hughes, Greg Horn, Talent Caldwell, and Skottie Young (A phenomenal cast). I asked a good amount of questions about programs for art creation and the politics of editors and getting your first work. Here is the best photo, my crappy little 2.1 MP camera.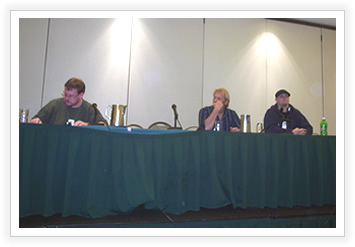 We periodically checked in on Adam, and then decided to get sketches from Skottie Young since his list was open for Sunday and we were going to be around. We also talked with Stuart Sayger who we found out Does "Shiver in the Dark" and is a local Indy artist. He was really cool, talented and great to talk to about his experiences in self publishing as well.
We got invited out to dinner after Saturday's show with our new friend David and the people we met through him including Andy, (girl) Dan, and Kevin and what ended up being a table of 12 people. These guys were awesome and actually go to a ton of shows, the pinnacle being Dragon Con in Atlanta.
We drove up to Mansfield to stay with a friend for the night, had some wine and got relaxed and had a good night's rest, and for me, it was after being up almost 24 hours and at my old age of 25, that isn't as easy as it used to be.
On Sunday when we got back into town Skottie Young had our sketches done. (See photo in Photo Diary section). Adam was drawing for A.C.T.O.R which is a benefit for older artists and he had gotten through a couple more sketches that morning.
We did some more shopping, I traded for some new books and we hung, relaxed and read for awhile. Then on my way back in I traded for nearly $90 of books since the show was getting near the end, dealers were more ready to deal. It was about 3:40.
We got to Adam's table and he started my sketch. He finished up at about 4:30. He is my beauty. I am really happy with it, I know that a lot of comic geeks and most macho men out there will laugh their tush off, but here is my "Baby one more time" Britney in the classic school girl outfit. I think she has occasional catchy music mixed in with a bunch of crap. But you gotta give her credit for selling it and she is truly an "entertainer". I wanted to give Adam something unusually instead of the myriad of Tomb Raiders and Wonder Women that are out there that he draws every day. The inscription actually says "First and Last Sketch of Britney Spears. 1 of 1. AH!"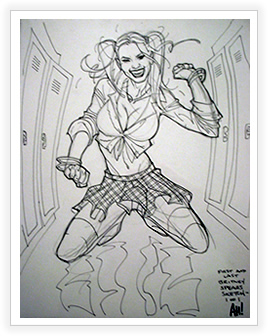 So only two years of trying and I was successful, but I definitely go for the gusto and learned from my mistakes so I could get this before I lost interest and without paying X amount of dollars over many years trying to get it.
So that was it for the weekend except for the trip home which we made immediately after that. I think we'll go next year, Christine was a blast to hang with and she had a great time at her first convention.
As a final note, I apologize to Christine. She was about to buy this rockin piece of original art. But I opened my big fat mouth, voiced an un warranted opinion, and kind of ruined it for her and made her sad. So, as I said earlier today, I am sorry. I try my best not to do that, and it never fails that I always mess something up. Hopefully we can still do this next year.
Here are some similar arcade posts
If you enjoyed this post, please consider to leave a comment or subscribe to the feed and get future articles delivered to your feed reader.