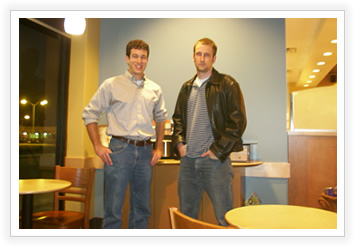 On a day that already had a ton of stuff going on, I got a call from a good old college bud, Avi S.
He was working in out in Greenfield (Green'tucky) for the night, which is about a half hour east of us. But he actually drove closer in to town and we went out to dinner at Outback Steakhouse.
It was same old same old with Avi, which is great that things haven't changed. He is doing well in his job, enjoying it and getting paid well, and enjoys this first business trip down here first to Peoria Illinois and now Greenfield IN. He was doing some testing on the lighting at a Walmart in Greenfield.
It sounds like Avi is going to go to Texas with his girlfriend to meet up with Jerry D. over Christmas break. We talked about other good old times, and newer news like the Michigan win on Saturday in triple over time against Michigan State. He was at the game, the lucky bum.
We ended up for a short time at a Starbucks and this is where we took almost 9 photos, trying to get a good one with my crappy camera. So here, the posed looks as it was done to obnoxiousness.
Here are some similar arcade posts
If you enjoyed this post, please consider to leave a comment or subscribe to the feed and get future articles delivered to your feed reader.