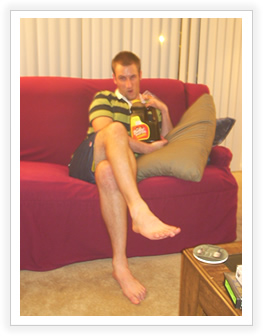 Sarah's last trip to the store held a surprise for me. Now, anyone who knows me worth a lick, knows that if there was more protein and less fat in breakfast foods, that is all I would eat. Donuts, cereal, pancakes, waffles, omelets, shoes with syrup, anything! It's 8:00 am and it has syrup on it, I will eat it.
She came in and told me to come out to the car for my surprise. And here it is, a non flattering picture of me with my Butterworth's syrup. Consider yourself 10% dumber.
Here are some similar arcade posts
If you enjoyed this post, please consider to leave a comment or subscribe to the feed and get future articles delivered to your feed reader.