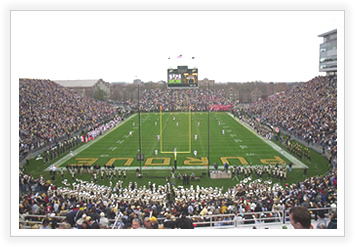 This was barely a game. With over 500 total yards in the first quarter, over 760 by the end of the game, and over 500 total passing yards the Boilermakers trounced IU 63-24.
I have only ever experienced the Big House in Ann Arbor, and this stadium is very different.
Nestled in between campus buildings and dorms, the Boilermaker stadium is open at one end with a shape like a horse shoe. It only seats something like 75,000 which is a far cry from the 110,000 plus that the Big House packs in every game day.
They had some different cheers that I got to exercise throughout the game with so much scoring. A 1,2,3,4 thrust of the arm forward and then a thrust flat palmed with a "First Down!" in the direction of the first down.
It was just a lot of fun. I went some people from church, Paul Johnson and his daughter Paula who is our age and Fred Willig (Whose wife is the kindergarten teacher that Sarah worked with last year.) It was the first real out of college "tailgate" party I had. It really wasn't a planned one, we just kind of sat around the car, drank some beer, ate some sandwich rolls with meat and cheese and watched all of the crazy college kids go by. A lot of them were dressed up like Halloween for whatever reason.
Here are some similar arcade posts
If you enjoyed this post, please consider to leave a comment or subscribe to the feed and get future articles delivered to your feed reader.