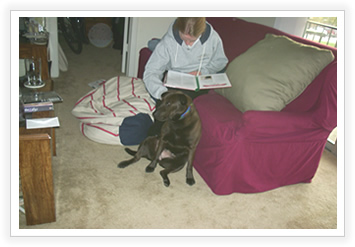 Christine Mulligan had tickets to the Colts game, 16th row or something insane like that and it had been about a month since we got out and walked Lady. So, we offered to baby sit her for the day while Christine was at the game.
When they arrived, I came dashing out to see lady, I was excited. Well, being in a foreign place and having a big tall dork dash out at you would scare me too and she kind of piddled on the floor. I felt really bad for scaring her. But at least now I know what it is like to clean up dog pee in the house.
She wasn't as spunky as she usually was, but she was quiet and sweet like normal, and I think that she missed Christine all day long. We took her on a walk and talked about how and what we might want to do in getting our own dog, which is always fun to talk. We took her home after about 6 hours of having her around, and right away the house felt weird.
Here are some similar arcade posts
If you enjoyed this post, please consider to leave a comment or subscribe to the feed and get future articles delivered to your feed reader.