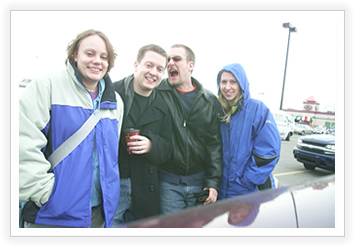 Let's see, where was I. We just got done with the terrible service for dinner at Kruse Muer in Grand Blanc Michigan.
My friend Jen from Midland met us at the restaurant and after we said our goodbyes to extended relatives, we led Jen back to the Czinders house in Flint.
All five of us hung out and caught up, had some more drinks and had a great time. I learned all about the fun of Lonestarrunner.com, a flash animation site that has all sorts of silly humor with it's leading character Strong Bad. Jen and I loved that, and think we may one day have to do something similar and make lots of money. Lonestarrunner.com makes all sorts of money from merchandising and stuff. Wouldn't that be a sweet ticket?
We stayed up until about 2:30, but not before we had gotten out Super Mario for the Super Nintendo and played that for over two hours. We kept switching turns and it was funny to watch the girls play without any success. Jen couldn't figure out in those two hours how to make Mario jump without spinning. Good times. Jen actually left and drove home after all of that!
The next morning:
We got up at a decent time and decided to go out to Bob Evans for breakfast. But the night before Sarah and I had some problems getting gas in her car we thought as a result of a deposit problem we had over the last week. So we had to go to the bank first and see if we could clear that up. We waited in line forever, and then when we asked, it seemed that everything was fine. So that was frustrating to have wasted all that time.
While we were in line we had this crabby old lady walk in. Now, I am not making the generalization about older women. This lady seriously walked in, looking at the four of us standing there, and said in the most old crotchety voice you could ever imagine, "How many people does it take to make a transaction at the bank?" While I was talking to Thomas and turned around she actually tried to edge her way in front of us, so I made sure that I got back in line and then she looked at us and asked us the same question again. We were just standing there. Ah well, anything to know that I brightened up someone's day just a little bit.
After all that we didn't have time for Bob Evans because Andrea had to work, so we got some donuts at Tim Horton's, took this picture and called it a day. Sarah and I had to go back to the apartment because she packed something where she forgot she packed it, thinking we left it at their place. So after a ton of useless driving and time wasting, we got on the road just before 1 p.m. and made the long drive back to Grand Haven.
Here are some similar arcade posts
If you enjoyed this post, please consider to leave a comment or subscribe to the feed and get future articles delivered to your feed reader.