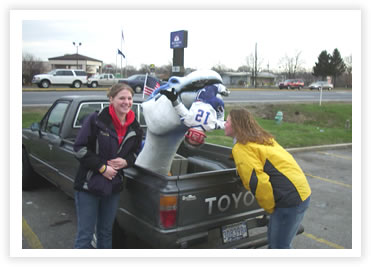 Brenda Chapman spotted this little gem when we were traveling back from some shopping on Saturday. Sitting out in the Denny's parking lot by our house was a beat up truck that had a huge paper mache blue and white Colt head sticking up with a tiny little body of a certain Patriot quarterback hanging out of its mouth.
Alas, that wasn't meant to be as the Colts were just shut down left and right. Tom Brady really didn't do squat, but the defense and rushing game just rolled right over the Colts, eliminating them with a final score of 20-3.
Here are some similar arcade posts
If you enjoyed this post, please consider to leave a comment or subscribe to the feed and get future articles delivered to your feed reader.