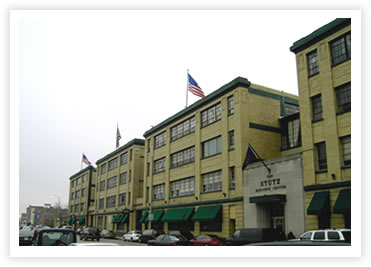 Like I mentioned on the front page, the Stutz building has all sorts of graphic studios inside. It is it's own community and the building has such character. Originally home to the Stutz, which was manufactured here in the early 30's, the building is still littered with the cars and even has it's own museum. In the early 90's Turner John management bought the property and broke it up into office spaces.
That brings us to today. Some of our competitors are in the building, and some businesses we could outsource some work to. But either way, it is so cool to go around and see all of the offices and how they have customized their workspace, since most of them are artists.
Hopefully when we get settled in I will have some photos from the inside. I know that I love being just a block from the canal walk for running and everything, and I can rollerblade, like I will tomorrow, ten blocks downtown to the comic book store. Plus, the building has a restaurant with great food and a bar, so you barely ever need to leave.
Here are some similar arcade posts
If you enjoyed this post, please consider to leave a comment or subscribe to the feed and get future articles delivered to your feed reader.