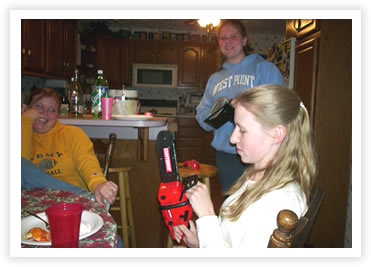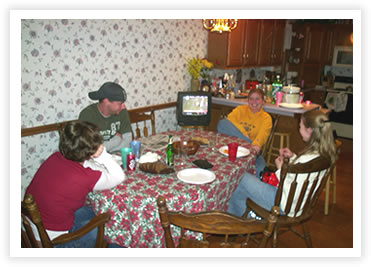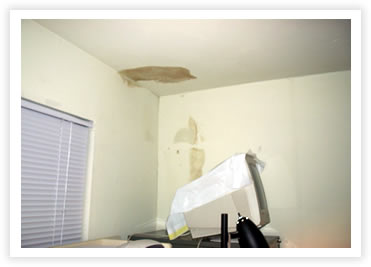 It was a tough game, with both teams playing good at times, and not at others and the lead flipping back and forth. But in the end, by not scoring first and going hard from the beginning, Michigan lost in the final seconds on a field goal, 38-37.
In the first photo, Sarah is playing with a little "play" chainsaw that actually makes the noises and has a little tin ball linked chain that moves around. In the background are two of the Johnson girls, Emily is on the left and she is on break from Concordia Ann Arbor right now. Andrea is on the right and is a Junior in high school.
In the bottom photo, to the left in the red is Paula Johnson, the oldest Johnson girl and right around our age. The guy to the left with the ball cap is her friend Brian. I don't know much 'bout dat guy. He likes hats.
And then finally, unrelated, but here anyway, is the photo of the extensive Water Damage that we are experiencing at Beech Meadow Apartments here in Beech Grove. Sarah contacted the front desk about doing something about the leak, so it doesn't get worse because this was the damage we had after the first warm day started to melt the snow on the roof. Basically Beech Meadow Apartments said they weren't going to do anything about it because "It was too dangerous to send maintenance men on the roof". They suggested to move everything we had away from that wall and they would come in and basically redo the roof and the wall when the snow was gone.
This is the type of attitude we have experienced for the last six months from Beech Meadow, and I hope that this will benefit someone's decision out there to not live here unless you want a substandard living space.
Here are some similar arcade posts
If you enjoyed this post, please consider to leave a comment or subscribe to the feed and get future articles delivered to your feed reader.