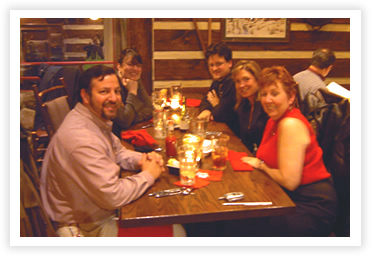 Esystems spent about two weeks preparing in full for the Business Networking International (BNI) Conference here in Indianapolis. It was a solid turnout, and the speakers were great. Five in total, the speakers topics ranged from spotting personality types to introverts vs. extroverts and the advantages in networking for an introvert.
It was an awakening for me. I had worked a 16.5 hour day prior to the event, and got five hours of sleep. So I felt a little off my game for my first major networking event since I stopped regularly networking just over a year ago when I got my job at Esystems.
After the conference we went up to the Blue Lake Lagoon restaurant up on the northside of the city. We met three other people there, seated from left to right in this photo; Glenn Antoine, Jill Bode from Designed Write Public Relations firm, Chris Antoine, Dawn Lyons (Keynote speaker for the event), and Hazel Walker who runs the Indiana extension of BNI.
It was a fun night, and those three women are a riot. Hazel and Jill are hilarious, and Dawn is very intelligent. She spoke about personality types at the conference, using broad terms to label the different types into categories of gemstones, etc. from pearl to ruby. Regardless of whether her content was groundbreaking or not, She is a great speaker. We met her the night before at a BNI networking prelim meet and greet at the Life Center on Washington. She is entertaining and captivating, and I didn't once find myself having a hard time understanding what her points were.
Here are some similar arcade posts
If you enjoyed this post, please consider to leave a comment or subscribe to the feed and get future articles delivered to your feed reader.