I have mentioned in passing that I have been trying desperately to get a firm hold on 3DS Max for the last 3-4 weeks. It is a dense program, and I attribute that to the fact that Autodesk (Discreet) is also CAD, which to me is all about architecture and engineering and not user friendly GUI's. This program is very dense, and would be hard to organize, but seriously, it can be so overwhelming. This is the hardest program I have ever had to learn on my own.
That said, one of my largest crutches when it comes to programs like this is shortcuts. I can only learn as fast as I can manuver, and I wanted to move quickly, with keys that I knew from other programs, so for the first week I lived in the Shortcuts menu.
But you ask, as I did what seems a simple question, How do I change those shortcuts?
Step 1: Open 3DS Max
Step 2: From your main menus choose Customize > Customize User Interface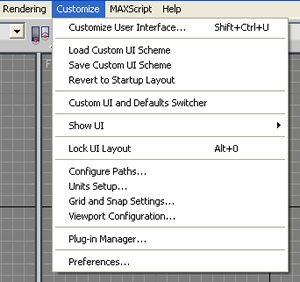 Step 3: Choose your option.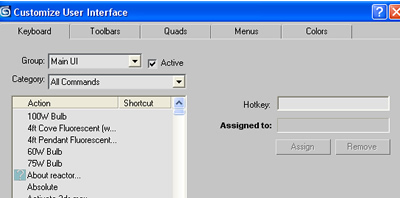 This may not be inherent at first, but you will get the hang of it soon enough. The best tip I can give a new user is hover over the button in the interface that you want to change, and then view it in the list to change it.
For example, the "Move" tool is actually called Select and Move, so scroll through the list, find it, change the shortcut and then, very important, save your shortcuts. I have had problems where they seem to get reset, maybe this is a stupid user error, but I have no idea why they wouldn't be there anymore after using them for awhile and then closing the program.
Hopefully this is a good start. I know it doesn't introduce anything, but I can't teach the whole interface, instead I hope to highlight the stuff that Autodesk does not make very obvious.
Here are some similar arcade posts
If you enjoyed this post, please consider to leave a comment or subscribe to the feed and get future articles delivered to your feed reader.