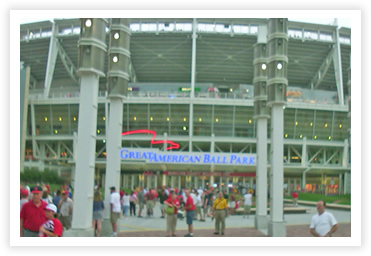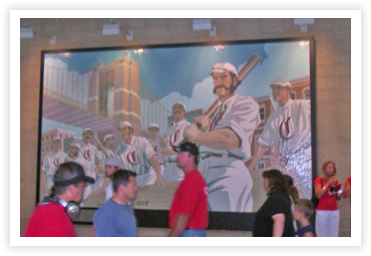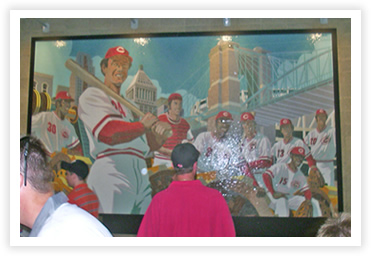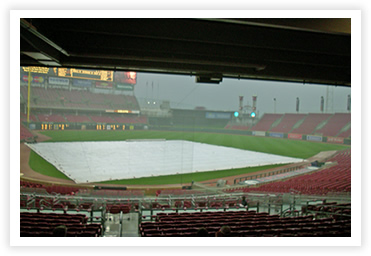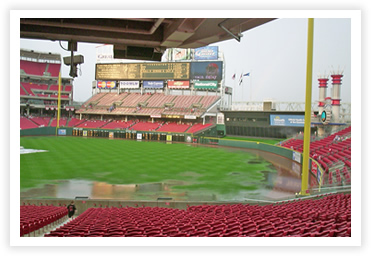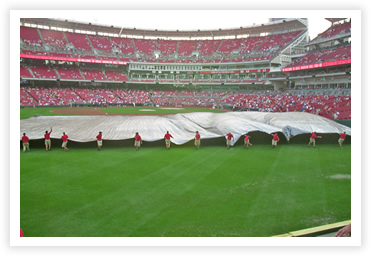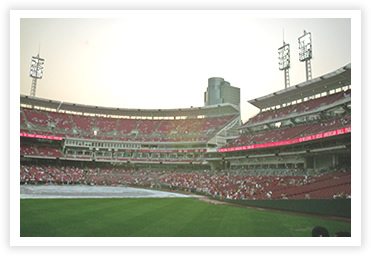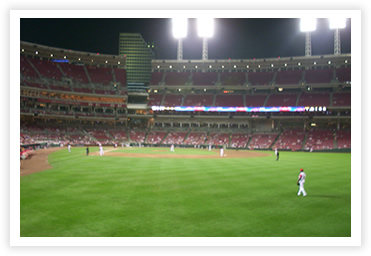 Paul Johnson and I got to Cincinnati two hours early, got some great seats two rows back in left field, and then grabbed something to eat. We headed back across the street to "The Great American Ballpark" and just as I am taking a photo of the entrance, we feel some thick rain drops. It proceeds to pour for about an hour and a half. Check out some of the photos I posted in the photo section. Paul said it was unusual for Cincinnati, telling me they haven't had a rain out in something like 30 years, which was hard to believe. They did manage to clear the small lakes off the field and the game against the Astros started at just around 9.
It was a sucky game. The only double was by the pitcher, and after 7 it was tied 2-2. I don't think it is my season for live baseball games. We moved around with the left handed heavy Reds lineup to three rows back in the right field seats. We figured out why no one was sitting in left field. You can't see the scoreboard, and I imagine on a hot day you would roast. That was the nice thing about the game, it was a great temp outside, very comfortable.
As a sidenote, I will say that the stadium is really cool. The design is different, there is this nice gap when looking from the right field seats between the stands to see some of the high rise buildings of downtown Cinci, and the stadium is right on the river. There were some cool murals that I took photos of, one of which brought back great memories for Paul, the Big Red Machine. Foster, Perez, Bench, Griffey, Concepcion, Rose, Morgan, and Geronimo. The whole stadium was clean and easy to navigate, which may not be the intention, but was nice on a night like tonight.
Starting in the sixth inning we hear the thunder and see lightning. They play the end of the seventh and just like before, it comes down in torrents. We leave and keep the game tuned on the radio, hoping to hear that we would get a raincheck for another game. I mean, come on, the game is tied. No, they call it a real game, the stats count, but they have to replay the game on Saturday. So, it ended in a tie and the Reds and Astros will have played a 163 games in one year. The first rainout in 30 years, and I manage to go to it. After my freezing game in St. Louis in April, I have forgotten any thoughts I had about hitting a Cubs game later this summer as well.
Here are some similar arcade posts
If you enjoyed this post, please consider to leave a comment or subscribe to the feed and get future articles delivered to your feed reader.