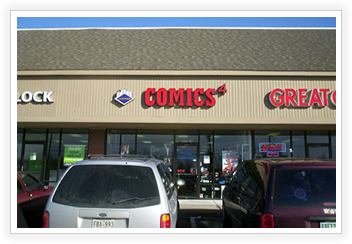 Location : Indianapolis, IN
I have only been to this store twice, but it seems to be a pretty good one. Like most of the Downtown Comics, it has a pretty good selection, but things will sell out quickly if you only have one copy of them. This store also has a good flow, new releases lead you to the back to back issues and around the back with those back up to the front with graphic novels. And unlike some Downtown Comics locations, you can reach and easily access the back issues at will. The guys who work here are generally nice and don't pester you, but they also may not say hello when you walk in either.
Update
In late 2005 this location came under new management. The guy who runs the store always knows your name, and is really friendly. He's a people person, remembers what you read and is a great businessman too. He got me to switch my subscriptions to his location and it isn't even really on my way.
I don't know how much longer this will be a Downtown Comics location, but I will be here to review anything that changes.
Here are some similar arcade posts
If you enjoyed this post, please consider to leave a comment or subscribe to the feed and get future articles delivered to your feed reader.