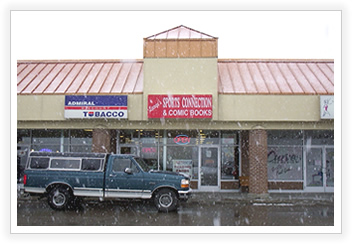 Location : Muskegon, MI
I remember when I first moved to Grand Haven and Comics were a big thing. There must have been like 4 stores just in GH alone, and Langes was one of them. They had a small local chain of four stores, and I used to go there all the time looking for great deals on baseball cards, and later in life, comic books.
But eventually, like most businesses, Lange's got sloppy. I think they may have two stores now, one of which is around the new Muskegon mall that combined the upper Muskegon location with the Grand Haven location. But soon after I went to college, Mr. Lange hired two brothers that really made the shop unfriendly and scary to go into. These two brothers are each easy 375 lbs. and the one guy is like "Comic Book Guy" from Simpsons but 10 times worse.
When I go in the stores, she is overwhelming customers with geek speak and silly jokes instead of trying to help people because he is disgustingly overweight. The store usually smells like pizza and sweat and to top everything else off, Lange's doesn't have hardly any selection. They don't stock but maybe one book of very selected titles, and then if it is out for more than a week, they mark it up 125% of cover price.
Don't go to Lange's. A little geek is ok in comics, but business still has fundamentals, and one of them is never hire someone who so disregards his appearance that it can make your store go down the tubes.
Here are some similar arcade posts
If you enjoyed this post, please consider to leave a comment or subscribe to the feed and get future articles delivered to your feed reader.