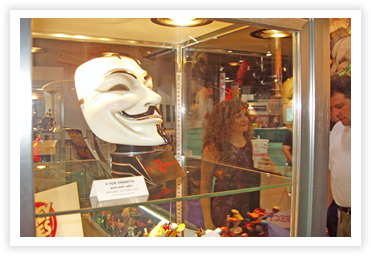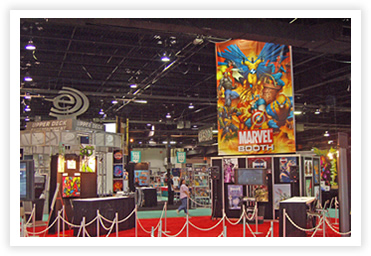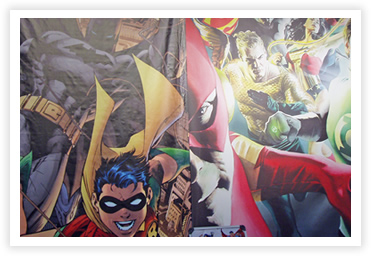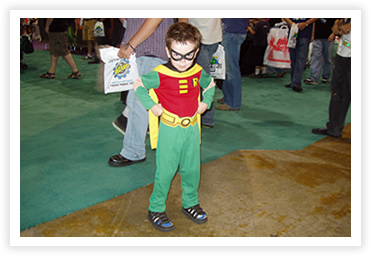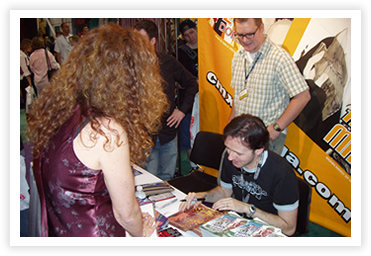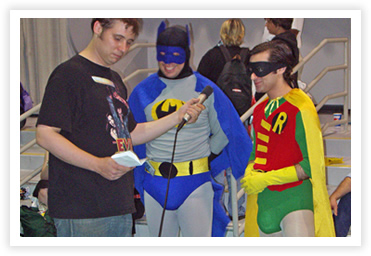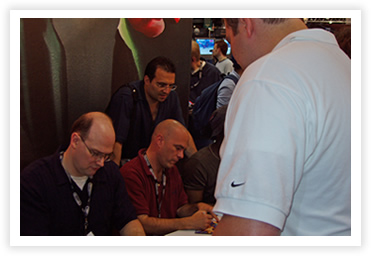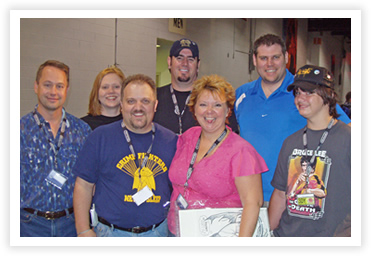 Wizard World, the mother of all conventions here in the midwest, is always crazy, but you can usually find something positive in all of the atrocious lines and mind bending traffic of people.
The main reason I went was to meet one of my favorite artists, J. Scott Campbell. Well, with any con, you don't get to see just the great artists, but all of the weirdos, the little kids dressed up, and you get to hang out and meet new great people. The top photos tell us just this. The fifth photo down is J Scott Campbell signing Christine's books right before I got in line and then number seven is David talking to Alex Ross, one of his most cherished artists. Alex knows David too, which isn't surprising if you know David, but is still weird.
Christine Sarah and I drove up on Friday night after a nice dinner at home. We met this whole group at a restaurant called Roc's and talked for a bit, before Sarah and I left to go stay with her cousin Tim Gallagher, downtown. We then stayed up, got some food and talked until about 1:30 in the morning. Tim is great, and always so welcoming to us just dropping in and visiting him. It's easy to be in awe of what he has, a cool place in downtown Chicago and a cool job that takes him all over meeting interesting people with others really counting on him.
Saturday, I took Christine's car up to the hotel where she David, and Andi were staying. (Andi = Red hair bottom photo and really sweet. We also met her in Ohio last year.) We then made it back to the con just after the 8:00 am opening. That is the best part for me. Being able to walk around, calmly take the surroundings in without all the crazy people around and take photos. David then gave Christine and I a great surprise. He had gotten us Campbell sketchbooks, which were in limited print from San Diego and Campbell himself claimed that he wasn't selling them at this show. Good old David, he never ceases to surprise me.
The floodgates open at Wizard World
Soon, the main public was going to be coming in. It was nearly 10:00 and it started to get crazy. We killed a little time, took a look at some of the huge booths like Marvel and DC with their huge colorful banners and A-list artists. We took a stroll around the extensive and expanded artists alley. I also started to keep an eye out for the comic dealers, I had some books to trade with my sights on getting a full set of the V is for Vendetta series.
We knew we were killing time however because J Scott Campbell would be signing early in the morning, and again, David got us the wristbands we needed to even get something signed. I never would have met Campbell without David, he is awesome. We were up close to the beginning of the line, and I got three things signed, and got to really tell him how much I appreciated all of the detail he has put into his artwork. He has really created a great legacy for himself, and being the great guy he was, he responded really well and was so friendly, signing my books with great appreciation. I don't normally do the geek thing, but he is one of about five artists that I would get books signed and get all weird about.
Now that the main event is out of the way.
After that was taken care of, I started to wander by myself. I saw a ton of the props from Batman Begins, the utility belt, the cowl, and Scarecrow's mask and getup. I was entrusted with David's camera, so I was also keeping an eye out for people dressed up.
I saw the huge banners for the upcoming Aeon Flux movie with Charlize Theron, and I stopped by and said hi to Adam Hughes and Allison. I made it over to the Avalon Studios booth, they were selling Brian Haberlin's Photoshop coloring training series. I already know how to color, so I am already a leg up over the average fan. I was looking for more advanced techniques, and I found just the information I was looking for.
One of the colorists who works for Avalon is Ian Hannin. I was not familiar with his work prior to the day, but I quickly became a fan. He is the current colorist on Marvel Knights Spiderman, and he had a laptop setup and was coloring at the booth, talking to con goers. He was so awesome, I asked a ton of questions relating to shortcuts, and prepping artwork, and he answered them all and seemed genuinely interested. He told me to stop back later in the day, so right before we left I did just that. I picked up one of the cd's and we talked some more with less of a crowd. I actually gave him one of my cards, which he seemed to like, and I told him if he ever had any questions about programming a webpage or web design, I would gladly help him out. He said he will email me in a week or so, but knowing how busy he must be and he lives in LA, I am not holding my breath. I just hope I get to see him again sometime.
Time to trade
Until my feet hurt, and I was worn out, I searched around, pricing out the set of books I was looking for. The one dealer I like to trade with was at this show, and I knew he had what I wanted. He is a good salesman, and even though I know he always gets the better deal, I like not having to spend cash to get something new, and in a lot of ways, the books I trade aren't really worth much to me anymore. I would rather have them be reused, them to basically have to give them away somewhere else. I got most of what I wanted, I am still missing two issues from the V is for Vendetta series, but I'll find them hopefully before the movie comes out later this year.
The cool and the weird stuff
I heard a ton of cool rumors this weekend. The best being Joe Madureira being on a book with Jeph Loeb in the near future. There was a print that we got at the show with Wolverine, Spiderman, and Hulk, and after a three year absence to work as a video game art director, I welcome him back. Michael Turner is also now doing some work with Marvel. That is the cool.
The weird. Everyone has heard this story, but this is still really weird to me.
I packed two bagels with peanut butter for lunch at the con. It was time for me to re-energize
I had my book bag at a booth of a friend of David's and I got out one of my bagels. It had that kind of congealed look to it, where the peanut butter had soaked into the bagel some, and it had gotten squashed under all of my comic books. I started to eat it and headed around the table to meet up with Christine. The hallway was clear for just a moment, which was weird because it had been crowded all day. Then this pseudo goth girl in this lacey top comes bounding up like she is skip riding a horse. She stops right at me, looks up cause she's a shorty and says, "Where did you get that?"
Without looking like a pig, I looked at her badge on her chest long to determine if she was Wizard staff or something. After I figured, eh, it's safe and I think I may just be able to take this little girl, I said, "Uh, I brought it from home".
Looking a little confused, this chica kind of tipped her head and asked like she had only been at the con for five minutes, "Well, where would one buy food?"
I was surprised, but maybe she had missed it somehow. I pointed behind me and started to explain, "You see right back there at that white divider, that is where the food court is loca…" But I didn't finish. The whole time I was watching her and she wasn't watching my hand, but my bagel and looking at me with these puppy eyes. Halfway through my statement I felt like I could read her mind.
Me: "Do you want part of this?"
Little Gothly Gurl: Big cutesy nod.
Not having to re-enact the feeding of the five thousand, I had voraciously bitten into my bagel, a third of the bagel halfway to my belly, and two jagged wet bagel ends were left free to the wind. The thing with Bagels, is that they rip at the bow of the bagel, and it so happened that without giving this complete stranger my whole bagel, I would have to rip off a partially eaten end to give to her.
I did so, she snatched it up firmly but not greedily, said thank you, wedged the chunk in her mouth, and hopped off. Perfectly normal. I commonly reach the 8th level of dating, eating the other's food, with random fan girls at comic cons.
After telling the story three or four times, Sarah suggested that it was a dare. But I don't know many gothly girls that do scavenger type hunts do you? Whatever, it made for a hell of a story and it made me smile from ear to ear. It was a weirdly electric.
More creator time
Christine and David got in line for Alex Ross. I love Alex Ross, but I actually didn't feel that strongly about getting his signature, and they ended up waiting in a long line for over an hour, so I wandered. In the end they were still nice enough without prompting to let me walk up with them. I don't remember if it was at this point or not, but David and Christine had been talking all weekend about a huge controversy with some conflicting shows next fall. The show we just went to in Charlotte, with a brand new Wizard World in Atlanta. Supposedly the artists are rallying, and Travis Charest is going to be at the Heroes con next year. I loved that con, and now I have to go. This is going to be a once in a lifetime type of thing.
The con ended at 6, and we went to a very nice restaurant. I had a big lunch, so I didn't eat, instead drawing a terrible picture at the dinner table in Andi's sketchbook. But it was really nice to get to meet some of the other people in the group, especially Terri. (pictured in the lower right with the sketch in hand and the fresh cool hair). I took David back to his hotel and then Christine and I headed out.
Time to get Sarah from Tim's
We picked up Sarah, who spent the day with Tim, most of the day at Ikea up in the north part of the city where we were. They got pizza for dinner and hung out and caught up more. Despite that, she was all ready to go when we got there, which was good cause we were late as I figured we would be. We said our goodbyes and I drove the trip home without any problems, just over three hours of boring darkness. But it was an awesome busy crazy day and a great memory. Plus, it's our one trip to Chicago for the season.
Here are some similar arcade posts
If you enjoyed this post, please consider to leave a comment or subscribe to the feed and get future articles delivered to your feed reader.