I bought my first Pac-man in Indianapolis in June of 2006 and I was working on some cosmetic issues on it nearly 6 months before I started blogging about arcade games. As a result, I didn't write updates on all of the daily things I did to the cabinet, and I didn't get to write about the decision to make the cabinet into a Mame machine.
I thought I would add some photos of the machine to date, talk a little bit about what I did and what I learned, and what is next to finalizing the never ending Mame Pac-man project.
My yellow touchup is really bad
If you take a look at the photo gallery showing the Pac-man cabinet when I originally got it, you could see that it was really rough. Someone had done a terrible touchup job on some cabinet damage, the control panel was rusting, the top of the cabinet had sticky goo, pretty much all of the normal things for an arcade game of that age.
Since this Pac-man wasn't my favorite game and the condition of the cabinet was so bad, I decided I would make Pac-man a Mame machine. At that point I wasn't thinking I would have more than one machine, I would have one game that would be the be all to end all. At that point, I was naive.
So, the goal was to make it look as nice as I knew how, never having worked on any machine in the past, gut the insides and put a computer in it. I started by using some Simple Green to lightly scrub and remove the spray paint from the sides of the cabinet.
Next, I went into Sherwin Williams and tried to match the yellow paint. At that time I don't think I had done much reading online, nor had I found the Pac-man paint codes. I picked up a gallon of oil based, glossy, enamel yellow paint matched to the back door on my Pac-man. Regardless to say, the touchup spots look less than great 🙁 Even if you ignore the fact that I wasn't able to reproduce the blue splatter spots. (The flash on the camera makes it look a lot worse and more noticeable than it actually is)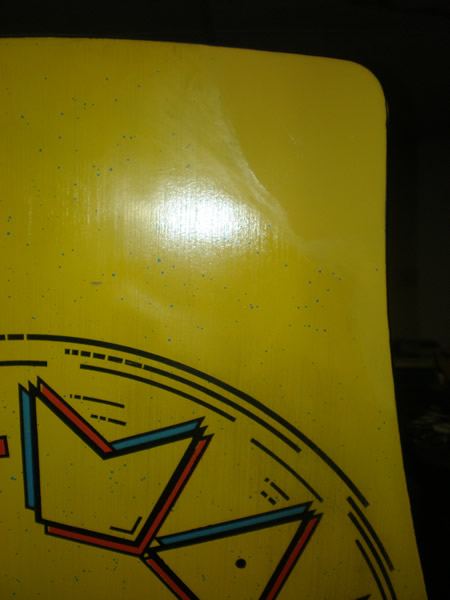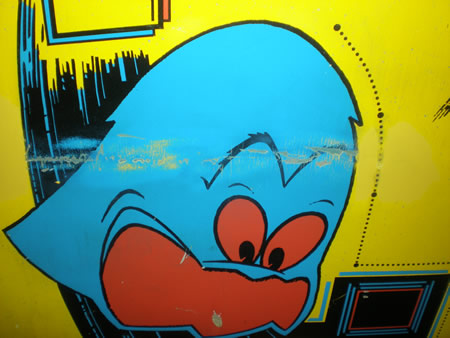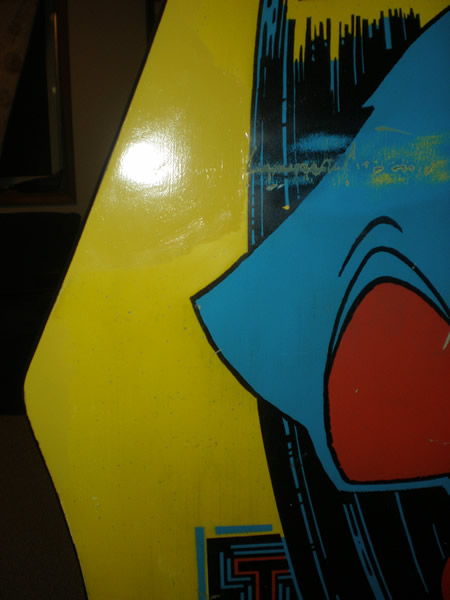 But, since this machine is only for Mame, and the sides would be hidden I don't really care anymore.
Eventually, I replaced the orange t-molding (which I was never a fan of) and put in black which I think goes better with the cabinet colors.
I also learned that for a Mame configuration, I would need at least one more button, a total of three. This was the only aspect of the machine that I didn't like doing, I put another hole through the control panel to put a third button in. I figure with how many Pac-man machines were made, hopefully someone can buy a complete control panel off eBay if they want to restore it back someday.
I was really interested in some translucent buttons, but had heard that the leds could be overpowering when playing and too bright in the dark. So I bought a number of white diffused buttons from Electric Ice and used red leds in the back. You can't see the glow in the photos, but I think in the dark they have the perfect amount of light.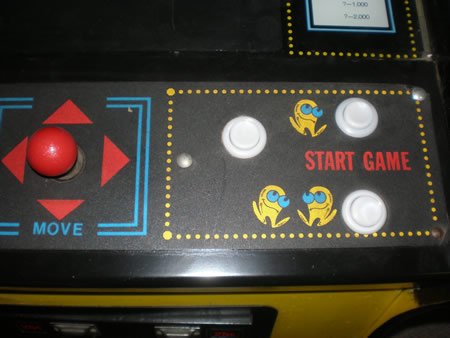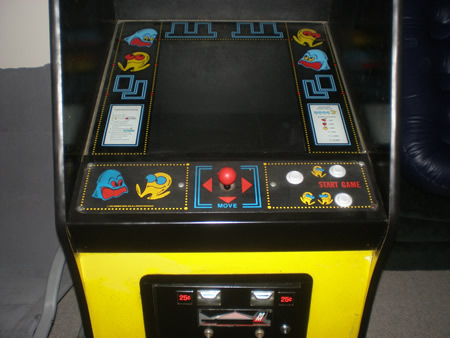 Finally, there were the hardware items. I picked up a brand new Vision Pro monitor from Happ, got a $50.00 computer with a P3 (at the time two years ago), picked up the ArcadeVGA and J-Pac from Ultimarc, got a new Jamma harness and bought a copy of Maximus Arcade front end for my Mame machine. Here is what it looks like so far in back.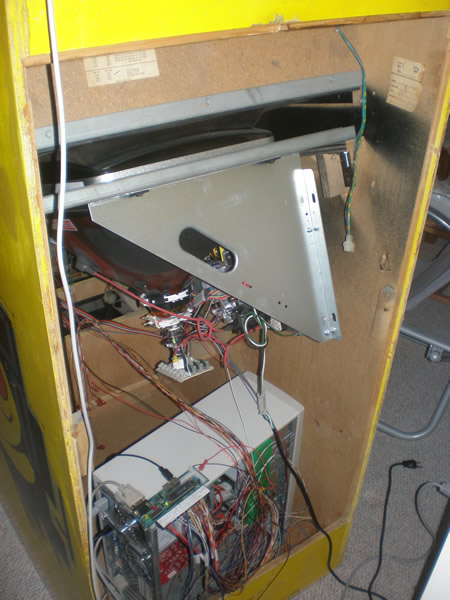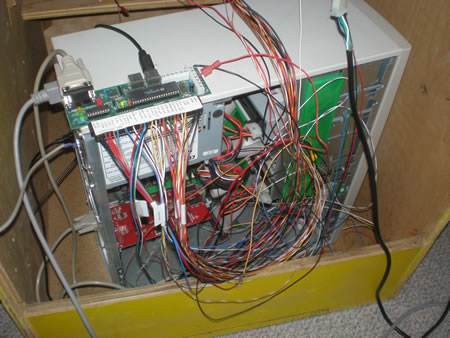 Pac-man is sitting, collecting dust
Pretty crappy right? Yeah. I feel like I need some large chunks of time to tackle and finally finish this project, and that time is really hard to come by. The machine is loaded up for Mame, I have messed with the Maximus Arcade front end a good bit, but at last check I was having issues getting the display to rotate and some of the settings to work completely right.
I would like to wire the machine to power on from the original cabinet switch, and I am sure there are a ton of other details that I had intended doing a year and a half ago and have forgotten about temporarily. I really should sit down, draft a specs document and hit those specs. That is the problem with Mame machines, they could always be better, take more money and be a never ending project, and I am a big fan of projects that have a definite finale.
So, that is my Pac-man machine. Maybe this winter will be better, and maybe now that I have some background info posted of what I have done, I may post about my progress and get some help from my great, established community. That would be great, so here's hoping.
Here are some similar arcade posts
If you enjoyed this post, please consider to leave a comment or subscribe to the feed and get future articles delivered to your feed reader.