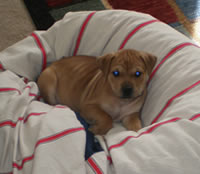 Our puppy Kellogg. Our sweet puppy Kellogg that we loved so much, and we lost too soon.
We had been recording his puppy firsts and his growth in a little written book that Petsmart had given us, but I thought maybe a section on my website would be more appropriate. As I started to write about him, to deal with the pain, it turned into a biography of his life, and I felt like that information was important. We need to remember, we need to remember what it was like to be happy with him, that he was happy, and not concentrate on his last moments which is so easy to do.
So although most of this will be written in retrospective with the best of my memory, it is pretty close to the right dates and what actually happened. I don't expect anyone else to understand, but Sarah and I will look at this in time, and our hearts will mend. It is for us, and for what Kellogg brought to our lives in such a short time.
Here are some similar arcade posts
If you enjoyed this post, please consider to leave a comment or subscribe to the feed and get future articles delivered to your feed reader.