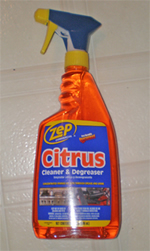 Stopped by Home Depot tonight after dinner and picked up some of Zep's Cleaner and Degreaser, I called Richard to make sure it is the right stuff. Supposedly this work loosen up and ground in grime, and also give a control panel a great shine, not to mention make it smell nice:)
Here is a photo of what that looks like here on the right. He also recommended Mr. Clean's magic eraser, so if this doesn't work that is what I am going to try next.
Here are some similar arcade posts
If you enjoyed this post, please consider to leave a comment or subscribe to the feed and get future articles delivered to your feed reader.