I finished up the control panel overlay tonight, I had poked around with it for small periods of time over the last week, including a fair chunk last night. Here it is;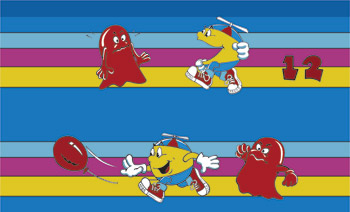 Now, the photo was provided kindly, and since I didn't have any intentions in the near future to reproduce this, I didn't sweat the details. But I should probably revisit some of the details in the shoes of Jr. Pac-man in the control panel overlay, the photo I had got a little fuzzy at parts. But, that happens in any photo no matter how great the camera, and you can always use detail shots. Thanks again Richard.
I kept this image small, yet again, because if you want to reproduce the work I have done, I want to make it as hard as possible. Contact me if you are interested in more information about this artwork or some sort of trade. All of my artwork is done in the industry leading vector program Adobe Illustrator, so it can be sized and changed as much as needed without loss of quality.
Here are some similar arcade posts
If you enjoyed this post, please consider to leave a comment or subscribe to the feed and get future articles delivered to your feed reader.