I had the rest of the can of Goof Off, and a bunch of curiosity, so I worked more on scraping off the black paint on the Xevious today.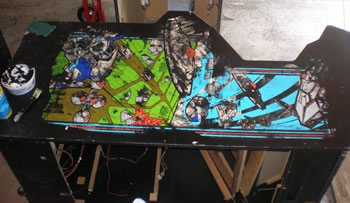 The can is gone now, so without a real rush I will probably hold off on buying another can until I get through some of the other fixes I have to do.
But it looks good. I just have a feeling that getting the black off the white artwork on this Xevious is going to be harder than the Dig Dug.
Here are some similar arcade posts
If you enjoyed this post, please consider to leave a comment or subscribe to the feed and get future articles delivered to your feed reader.