I had emailed a contact about getting some vector Pengo art that I thought they had. It appeared to me as if they had traced the cardboard bezel at one time, and I thought it would be a good place to start to get some vector versions of the ice mountains, sno bees and the Pengo character himself.
But come to find out, the image of Pengo bezel I saw was just a nice raster scan. So, knowing that I already had some different pieces of the sideart traced from other individuals (Pengo character, Pengo Lettering, Sega Lettering), and seeing that the artwork was fairly simple, I decided to see if I could crank through tracing it in one night.
I got through all of the major sideart details except for the sno bees on the right side of the artwork.
In one more night of work I should have the sideart decal artwork traced good enough to post an image here. Now, there will be some other details to iron out. The Pengo character doesn't fit up with my photo (which could be due to distortion because I know the tracing is very good), there is a half tone pattern to make the gradient in the letter and the mountains in the original artwork that I will need to address, and of course the color matching.
But at least I will have the Pengo vector artwork to add to my collection. If I want to get into those details later on I can, if I find that there are people out there who want a set of the Pengo artwork I can do some reproductions. I would think there would be a significant demand, I don't think there is any NOS Pengo sideart out there. I have found 2-3 people who have expressed some interest, Tim Hill, James Hagen and a couple of other arcade collectors in online board posts looking for sideart and control panel overlays. But we shall see.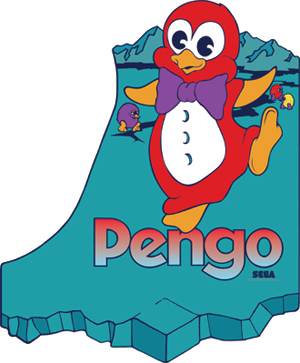 Here are some similar arcade posts
If you enjoyed this post, please consider to leave a comment or subscribe to the feed and get future articles delivered to your feed reader.