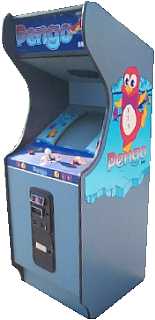 I can remember playing Pengo in the mid 80's on an early IBM computer. This computer was a huge part of my childhood, friend's of my parents owned it and their son was a burgeoning computer nerd. He always had different games loaded on it, including some popular, to be, arcade classic's like Sega's Pengo. I could play Pengo for hours, so until I got it in late summer of 2006, I had never actually played Pengo as an upright machine.
I would like to build up my library of exclusively owned vector artwork of games I like, artwork I like, and rarity. I felt like the Pengo sideart fell into all of those categories, and there is some demand out there for Pengo reproduction artwork in case I want to go through the process of printing.
Here are some similar arcade posts
If you enjoyed this post, please consider to leave a comment or subscribe to the feed and get future articles delivered to your feed reader.