I am trying to make sense of how to wire up a spare monitor to my R-Type, so I can keep my Vision Pro before I sell the machine. The vision pro is a nice new monitor, and it also has an isolation transformer built onto the chassis. In the diagram below I have drawn what I already have, and how I am hoping to attach another monitor.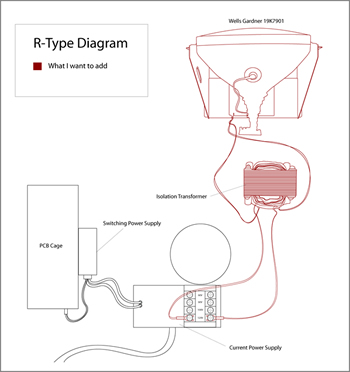 Bob Roberts said this in two emails;
First Email –
You need a 1:1 isolation xformer to run your monitor. The pic you have is of power entrance with an auxiliary outlet & a switcher.
I don't know if there are different versions of isolation transformers, and if the most common ones are 1:1, but right now, I am assuming the most common transformer is 1:1.
Second Email –
No… you can't tie in to the AC in feed. You have to have the 1:1 output isolated & there is only one place with 2 terminals to hook that up to without regard to polarity since AC has none.
In the first email I thought I described that I would put an isolation transformer directly off the power supply, and then from the transformer I would run my two power lines. But knowing how crappy some of my emails are sometimes, I must not have done a good job explaining which is my bad.
His second email I take away that I need to have some sort of polarity based voltages, and AC doesn't have that. Like, I would need +120V and -120V, and this is just +120V directly to the monitor.
It's a gift that Bob even responded to my emails with an explanation, he sells parts, he isn't a tech support guy or something.  So again, a big thanks out to Bob Roberts and his big heart for helping the lowly collectors trying to figure things out.
I don't understand the polarity part, so I am posting to the klov group to see if they can help me and explain it a different way.
Here are some similar arcade posts
If you enjoyed this post, please consider to leave a comment or subscribe to the feed and get future articles delivered to your feed reader.