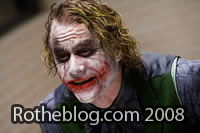 According to a couple of sources, including "Batman On Film", the filming of The Dark Knight in Chicago has wrapped. They finished sometime in early September, don't really have the time or the inclination to search for an exact date.
Kind of bummed. I had intentions to get up there to try to see something from afar, but the cost of gas kept me home. I will always probably be "I wish I would've". I was kind of hoping to tie a trip to Chicago to try to catch Dark Knight filming with a couple of others things:) But they didn't shoot long enough.
Well, now I guess I'll just have to look forward to December for the trailer. It should be attached to Will Smith's "I Am Legend".
Here are some similar arcade posts
If you enjoyed this post, please consider to leave a comment or subscribe to the feed and get future articles delivered to your feed reader.