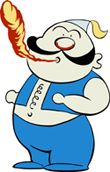 Today I started on vectorizing one of the Circus Charlie photos I straightened. The ringmaster artwork was fairly simple, and was one of the more clear photos I got.
The vector artwork will have to wait on the textured splatter effect on the colors. For now the colors are just solid. I would imagine eventually I will need to find a piece of NOS Circus Charlie sideart and get it scanned and use the scan for a raster effect.
Here are some similar arcade posts
If you enjoyed this post, please consider to leave a comment or subscribe to the feed and get future articles delivered to your feed reader.