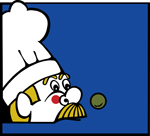 Today I finished another piece of the Food Fight Kickplate vector artwork, tracing the white chef near the upper left corner of the kickplate. The vector artwork was simple, and a breeze to do. I think the next piece will probably be right top corner with the other watermelon slices, since I traced one slice already on the kickplate lower left corner.
I know this particular section of Food Fight artwork looks weird, but the chef is the only full piece I had. The photo had pieces of other fruits and vegetables, but nothing in full, including a pie. I will probably need a close up photo of just those artwork items.
Here are some similar arcade posts
If you enjoyed this post, please consider to leave a comment or subscribe to the feed and get future articles delivered to your feed reader.