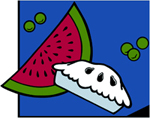 Got some time to start on the vector Atari's Food Fight kickplate artwork.
The colors don't match obviously, I haven't done any of that yet. Just getting the base artwork, which was fairly simple to vectorize. The dot pattern in the pie was the hardest part, and that may just be a smidegeon off, but is very close.
Here are some similar arcade posts
If you enjoyed this post, please consider to leave a comment or subscribe to the feed and get future articles delivered to your feed reader.