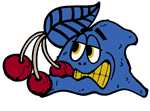 The Glob is done. Sounds like Rick is going to let Rich do the color matching either by sample or by photo (I guess he has an uncanny talent for accurately guessing pantone by looking at a photo, I have a hard time understanding how that is even possible…)
I need to find already made measurements (ideal) or take my own and mock up the dimensions of the kickplate of a Pac-man machine. Then I can start laying down the characters, making sure the colors are consistent, and compose some sort of design.
Here are some similar arcade posts
If you enjoyed this post, please consider to leave a comment or subscribe to the feed and get future articles delivered to your feed reader.