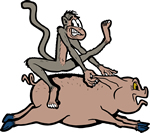 Got a chance to finish up the final touches on the monkey riding the pig today, and the rabbit was a two day trace of probably less than a hour total. Of course there will need to be some major color matching done for the monkey riding the pig, it seems to be way off. That is what sampling from the photo gets you. Feels good to have all of the animals traced (I think), and be moving onto The Glob himself.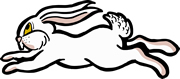 I think I will need some better photos to work from of The Glob, but he isn't that complex so I wouldn't be surprised if I could get him cranked out pretty quick and be onto making the custom kickplate artwork, the fun part.
Here are some similar arcade posts
If you enjoyed this post, please consider to leave a comment or subscribe to the feed and get future articles delivered to your feed reader.