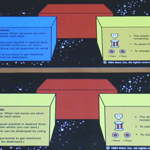 I came across Classicade.com this morning, Bret Pherson's website about his arcade games. Apparently he reproduced I, Robot monitor bezel stickers / bezel decals / bezel artwork, whatever you want to call them. He did both versions of the self adhesive bezel sticker, one was yellow and red, and the other bezel sticker was blue, red, and yellow, measuring 5-1/8″ x 15-1/4″. Visit Bret's writeup and website here.
I am sure most collectors know about this I, Robot artwork, the reproductions sold out. I would expect as much if Bret was the first person to ever do "I, Robot" reproduction artwork. But there were only so many Atari I, Robot machines made if you base the demand solely on collectors who would apply the artwork. I would guess if another run of artwork was done, more arcade collectors would buy it just to have it. But it is good to know that Bret has the artwork if he ever wants to do another run of I, Robot decals.
Now I wonder, what other pieces of the artwork for I, Robot have been reproduced? Does any other collector out there know? Do you have any links to sites?
Here are some similar arcade posts
If you enjoyed this post, please consider to leave a comment or subscribe to the feed and get future articles delivered to your feed reader.