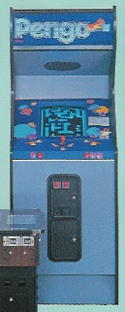 I saw this Pengo flyer over a week ago with the rare "dark blue" bezel and I can't curb my curiosity. I can only see a small image of the full upright Pengo, but the bezel looks like it is a dark blue color, with a completely different design for Pengo and the Sno-Bees. The only bezel I have ever seen is the one on my machine, but I have to wonder if any other collectors out there have this more rare Pengo Bezel.
Here is the link again to the original Pengo flyer released by Sega back in 1982. Dan Hower lists the source as Leandro Dardini, who is probably just an arcade game collector. Is this version of Pengo shown in the flyer a "beta" test version that Sega later revised after consumer feedback? For now, I am going to refer to this bezel version as "version B".
I don't know the answer to that question. In just under a half hour of searching today I came up empty handed, other than I fond a couple other collectors who own Pengo's.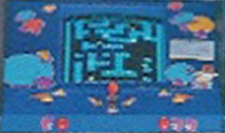 Sega's Pengo has a pretty loyal following. I sent out emails to about 12 of the Pengo collectors listed on VAPS to see if I could find out any more information. We'll have to see what, if anything I hear back.
July 10th, 2008
I ended up buying a copy of the Pengo flyer and scanning in the rare Pengo bezel prototype version at a resolution. Take a look, you can see what looks like huge versions of the characters, the Sno Bees and Pengo himself, with no ice mountains in the background. Now that I scan it in, it looks funny, with Pengo only on the right side and hardly the focus of the artwork.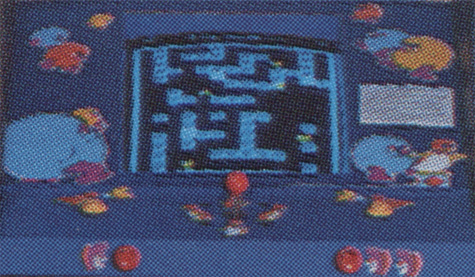 Here are some similar arcade posts
If you enjoyed this post, please consider to leave a comment or subscribe to the feed and get future articles delivered to your feed reader.