I can't find the source of how this website was found, (www.whysoserious.com/personalityprofile) but if you now go to WhySoSerious.com, you can continue following the viral campaign for The Dark Knight by taking Joker's personality profile.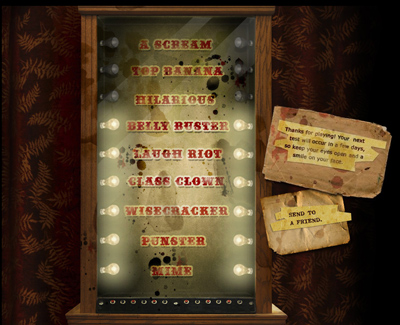 As you can see, on the personality questionairre I scored a "Belly Buster". I tried to answer all of Joker's questions how I thought he wanted them answered, but I still few a number of notches short from the top.
The imagry for the Dark Knight movie is right on, just look at the style and the subject matter, such awesome ideas to get people involed and excited.
It was asked if anyone has gotten "A Scream" on the profile test, and if anything happens. I haven't found anyone who has, and it appears right now as if this is just a fun test. So many other viral websites are popping up that it appears this is just one more cog in the whole campaign wheel that adds to the fun, not something you solved for an additional clue. Hence the "Send to a friend". They want you to get other people interested in the Dark Knight movie to get involved in this hype.
Here are some similar arcade posts
If you enjoyed this post, please consider to leave a comment or subscribe to the feed and get future articles delivered to your feed reader.