Earlier today I saw that there is a new "anticipation" hype site that is slowly releasing a new image of Heath Ledger as the Joker, "He is coming". Empire Online is slowly flipping over cards, and over a three day span, will reveal a sinistar looking image of the Joker from The Dark Knight.
Sure enough, the image got leaked, and we don't have to wait until the three days are up. That is, we don't have to wait to see most of the Dark Knight Joker image….but I am waiting to see what is in the background without the magazine trade dress messing everything up. Wouldn't it be awesome is they threw in some images of Harvey Dent in the shadows in the back jail cell, or another famous Batman villian like Riddler or the after effects Scarecrow?
Take a look below. One of the few images showing Heath as the Joker to premiere in full body length, and not some snap scene from the movie. Very maniacal! Very Awesome!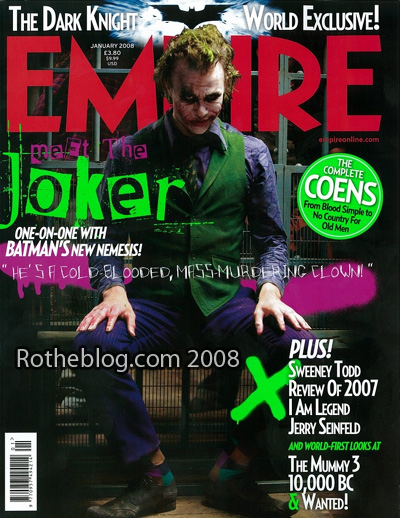 Here are some similar arcade posts
If you enjoyed this post, please consider to leave a comment or subscribe to the feed and get future articles delivered to your feed reader.