We went to Petsmart last weekend to see the puppies.
There was a one year old full bred Shar-Pei there, exact same coloring, similar tail curl and the exact same coloring right behind both of it's shoulder blades Nokes has this extra fur that is lighter in color right behind his front legs, and we thought that was weird. But this dog, "Zeus", had he exact same coloring.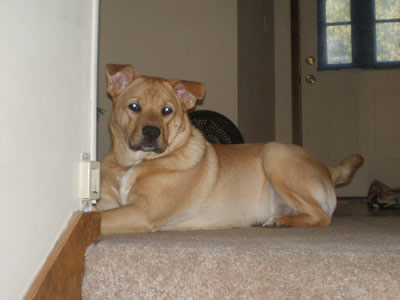 Granted, the head was significantly different. Nokes has wrinkles, but not like a Shar-Pei, but that was the main and seemed to be the only difference. Even the size was exactly the same.
A fellow friend and dog owner told me recently that Nokes has a retriever nose, and they would seem to have some expertise because they had a DNA test done on their dog because the curiosity killed them.
So right now, I think, Nokes is Golden Retriever because of the coloring and nose, Shepherd from the coloring on his chest, and Shar-Pei because of what I said above. DNA testing is really tempting. If it was like $50 I would do it, my curiosity is that high. I was told that the DNA test can only check for about 300 breeds of dogs. I don't know how true that is, I haven't researched it. But I would hope my guesses aren't too far off, and I would think they would be able to check for those three breeds.
Here are some similar arcade posts
If you enjoyed this post, please consider to leave a comment or subscribe to the feed and get future articles delivered to your feed reader.