This could become a fun daily classic arcade topic if I could find a game a day.
Hats off to Richard Ford. This past week he scored two "New In Box" (NIB) Universal arcade games, Space Panic and Zero Hour. Where he manages to find NIB box arcade games over 25 years after they were released boggles my mind. I know he had told me in the past of a NIB Joust he got in a trade, and a NIB Rally X. Plus, he just bought the NIB Pengo Mountain Dew Pepsi Machine a couple of weeks ago. His collection is truly top notch, and although some of the games themselves might not be rare, he has a ton of classic games that are almost mint condition.
Here are the photos he posted, the Universal games look really nice;
The forum topic on Klov mostly discussed whether or not these two Universal games had sideart on them. There are photos on klov showing the classic games having sideart, but the images look like they were scanned from a catalog. Finding a Space Panic or Zero Hour with sideart is nearly impossible. Here is what Richard had to say;
Both the Space Panic and Zero Hour are in the Generic Universal Cabs like you see for Mr Do! The dedicated cabs were extremely rare and I have one the coolest ones for Cosmic Alien. Universal did some interesting things with their games, they seemed to have no rhyme or reason to what they put in what cab. You'll see some cabs with Devil front kickplate art and then some with plain black, and the some like mine with universal artwork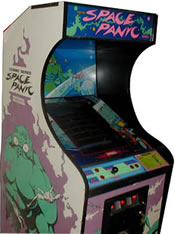 Richard's Space Panic and Zero Hour came with the Universal cab that has the red strips on the side, like Mr. Do! and Ladybug. Here is one image of the Space Panic that I took from Klov. You can see it had some cool sideart, which is news to me, because I personally hadn't seen any of their classic games that had anything but a generic cab. I thought the minimal success of Universal were related to Mr. Do!, and that all of their other games saw minimal production quality.
I'll update this topic as I see more photos once he gets them moved into his gameroom. You have to be careful with these old games and the weather conditions.
Here are some similar arcade posts
If you enjoyed this post, please consider to leave a comment or subscribe to the feed and get future articles delivered to your feed reader.