Pretty excited to come home last night after a long day and see that my Pengo High-Score Saver and Enhancement Pack from jrok had arrived.
This kit for Sega's Pengo has a ton of goodies in it, if you are interested in buying one, here is the enhancement pack's homepage. The main options that I wanted were;
High Score Save – Even when game is turned off, of course I had to have this:)
Change Music Type – Popcorn Pengo – I can't stand the original music, Popcorn is what I have always played in Mame
Freeplay – So I don't have to coin up every time and increment that counter
I played Pengo last night in between studying. I had to set those high scores:) The Pengo enhancement pack is so simple,fast, and easy to install, as the instructions say (It's also really affordable at under $50!);
Step 1: Remove the CPU from the socket (Z-80 Processor)
Step 2: With the CPU removed insert the Pengo e-pack board into the socket. Take note of the orientation and location of pin 1!
Step 3: Insert the Pengo e-pack into the Processor Socket (Kit Fully Installed)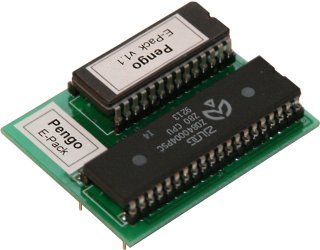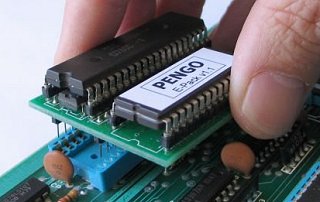 I always get nervous when working with these classic arcade games, mostly for the unknown. In the case of this enhancement install, there wasn't a lot to double check. Make sure the direction of the board is correct (Just double check the direction of the half moon cutout on the Z-80 processor) and make sure it is pressed and secure and that none of the pins were bent on install. Reattach the harness connection in the right direction, and turn on the game. I watched the Pengo PCB in back just in case something happened and I could cut power as needed.
I wanted to see my Pengo scores come back up after I turned the game off. I was running out the door, so I didn't have a lot of time. I waited about 30 seconds after my last game, turned the game off, waited 30 seconds, and turned Pengo back on. All I got was a flashing message saying something toe extent "Eprom reading high score tables". The same message you get after each Pengo score is saved. I said a little prayer that it was new, or overheated, or I just did everything too quick, and hoped when I returned that my Pengo high score kit wasn't broken already. When I got back, the game played fine, so I don't know what the problem was, maybe I didn't wait long enough for the next screen. Whatever.
Tonight I will be looking at the enhancement pack options more, to turn off "Game Select" and turn on Freeplay.
Thanks Jrok for making this Pengo high score saver enhancement kit, it really adds a lot of value to my game.
Here are some similar arcade posts
If you enjoyed this post, please consider to leave a comment or subscribe to the feed and get future articles delivered to your feed reader.