When I first got into the arcade game collecting hobby, the one game I wanted was a Ms. Pac-man. A common game that is easy to come by, but one I grew up with and have the fondest memories playing.
I searched for about four months for one, before I settled on a regular Pac-man. But the fact remained that I still needed to have what I was originally after, a Ms. Pac-man. After what felt like a ten month eternity from when I first started searching in the Indianapolis area, I found a non-working Ms. Pac-man in Columbus, IN in November of 2006. I made a deal with a guy, got him to end his eBay auction early, and went and got the classic arcade game.
There was only one problem. The Ms. Pac-man sideart had the typical fade all around, in the sideart and the marquee. I knew eventually, I wanted a machine with more vibrant pink. (Eventually I had a couple, as of this writing I have an extra Ms. Pac-man for sale in Indianapolis)
Finally Joymonkey on the arcade forum BYOAC has started to reproduce an authentic version of Ms. Pac-man stencils that he will make available to the collecting community. This is the first post of what I hope will be an extensive look into what it takes to stencil an arcade game cabinet and hopefully I will be able to do my own in the near future.
Stenciling a Ms. Pac-man is really the only way
For awhile, I have been toying around with my different options of improving the Ms. Pac-man sideart. There are only a few choices available and they are;
Buy Ms. Pac-man sideart decals stickers from Two Bits (Not Authentic to original in method)
Find a Ms. Pac-man cabinet with very little fade in the pink (Not Likely)
Re-stencil the Ms. Pac-man artwork
The first two were never really options for me. The original cabinet was painted artwork, and Two Bits artwork felt very much plastic and fake. Plus, I could wait an eternity or pay a hefty sum to try to find a Ms. Pac-man with great pink sideart.
I kept coming back to was re-stencilling my Ms. Pac-man cabinet. However, there are a number of issues involved with this process that always held me back;
Number one – Stencils aren't mass produced by Two-Bits, who basically has the exclusive rights to reproduce any Pac-man property artwork. Their sideart is total crap, they sell huge stickers for a ton of money, and if they are anything like the stickers I have seen on machines all over, the artwork is pixelated and the colors are wrong. Not to mention, putting a sticker on the Ms. Pac-man game devalues it, and as a result looks terrible in general.
Two – You have to find someone who will produce the Pac-man stencils for you on a handshake and a trusting relationship. Namco protects their properties closely, and you can lose your hat if you sell those stencils and get caught.
Three – The stencils are expensive and one use only. The amount of vinyl to restencil a cabinet just in material is shocking, and since the application is best replicated by the type of vinyl used, you apply the artwork, and rip the vinyl off and that is the end of it. You can't recoup any cost. So, if you are like me, who has no experience with stenciling, you had better do a ton of practice because if you do it wrong, you just wasted nearly two hundred dollars.
Four – What do I do, sand down my current Ms. Pac-man cabinet? The only one I have? I think not…
Five – I would have had to purchase all of the supplies, the mask, the paint gun, the paints and everything else related that I didn't know about. Also very costly.
For two weeks, the arcade collecting forums were all a buzz about this collector Joymonkey and his Ms. Pac-man stencils. Let's take a look at the beginning and how we got to where the stencil progress is today as of this writing.
Personally producing your own Ms. Pac-man stencils
In February of 2006, (on BYOAC) one collector had taken the art from AAL, sent it to a stencil shop online, and took orders from other collectors to have sets of these stencils produced. Well, the stencil quality was terrible, and the project flopped, people blew their money on an inferior product mostly because this collector had no expertise in materials or anything else to really make a quality vinyl reproduction from start to finish.
Then along came a user by the name of "Joymonkey". He works for a print shop (which is the key of experience), and he decided to take over the project, and all of a sudden interest in Ms. Pac-man stencils was renewed.
We could all tell by the amount of time and quality of content in posts that Joymonkey was doing an awesome job on this stencil reproduction attempt. Build Your Own Arcade Controls has a six page forum thread on the development of the Ms. Pac-man stencils. This topic is just rich with Ms. Pac-man information such as images of the stencils, information about the stencilling process, dimensions, videos of joymonkey picking off the vinyl mask from each separation of stencil, anything you could want is here. Just take a look at one image I already posted of the Ms. Pac-man kickplate dimensions.
Here is an illustration showing the difference between print ready and vinyl ready vector art.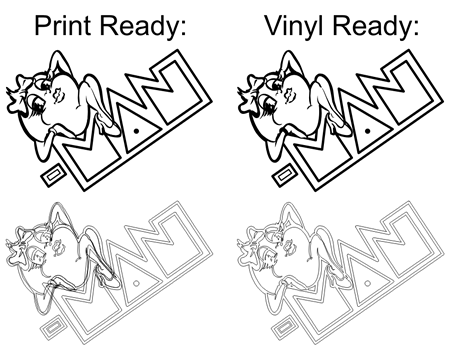 And here is an illustration of the stencils placement and sizes. The second of many images in the thread showing the process.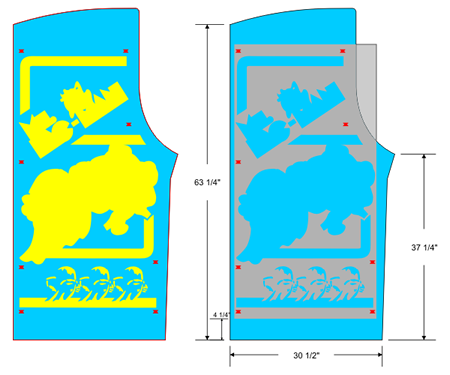 The pac-man stencil topic got noticed in the klov forums, and there were two more threads of six and nine pages;
Not to mention, the motion capture videos of Joymonkey and the time consuming process of separating the vinyl masking
If you read these topics on the stencils (I watched most of them from the beginning, so I read them as they were happening. But going back, reserve yourself about two hours to digest it all) you'll see two main re-occuring ideas. The first main idea is that arcade collectors don't understand the need for "one time use vinyl stencils", instead wanting something re-useable (See post about Brian Jones and his re-useable solution that will be perfect), and the question of how hard Namco would press charges against anyone making un-authorized un-licensed artwork.
Well, the topics died down. Joymonkey had a section on his website where you could pre-order a set of the Ms. Pac-man stencils, but that page has long since been removed. All of the collectors speculated how long it would be before he got slapped with a "cease and desist" order. Based on the language in his later posts and emails I got from him, he was being very careful about his wording, not knowing who he was "really" in touch with.
Either way, Joymonkey was just looking to cover his costs, not make a profit on the Ms. Pac-man stencils. Still infringement, but altruistic in a sense. After he was able to cover his costs, he promised to release his updated, reworked, separated Ms. Pac-man stencil file to AAL. He added in pieces of the Ms. Pac-man sideart artwork file that was on Arcade Art Library, and did a complete rework of any pieces that were completely inaccurate. The most exciting piece of the whole project is how accurate the new Ms. Pac-man sideart artwork vector file will be. Joymonkey bought a Ms. Pac-man machine, scanned in the sideart, and started doing a new vector trace from scratch after he realized the inaccuracies of the file on AAL. (Check out his notes in the comments section below)
I know I am waiting with bated breath for that day to come. Now that I have my pink, original, Ms. Pac-man, the stencils are irrelevant to me. But that file is going to be huge for other collectors to finally have a viable option to restore their Ms. Pac-man arcade machines without having to pay out the butt for bad quality artwork from Two-Bits.
Here are some similar arcade posts
If you enjoyed this post, please consider to leave a comment or subscribe to the feed and get future articles delivered to your feed reader.