Short and sweet, I am about 14 hours late to the punch, but I thought I would post the Dark Knight IMAX Prologue here if you have seen it yet.
Seeing the prologue like this took a lot out of it for me. It was hard to follow what was going on with the Joker's henchmen and the action, or really get a sense for how sinister Joker really is when he takes off the mask.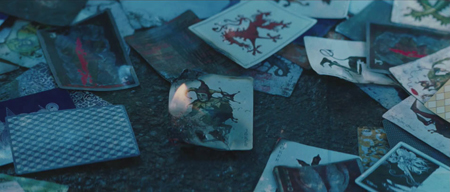 I hope we get the prologue online in high quality like the regular Dark Knight trailers that went online last night or at the very least another individual who is daring enough to tape the prologue in the theater with better quality.
The one thing that worries me when watching The Dark Knight trailer is the harkening back to a recent superhero movie with two or more villains, Spiderman 3. Spiderman was so convoluted, trying to jam too much story into one movie that it faltered. Sure, it made a lot of money, but not as much as the other ones, and I think fan reaction wasn't nearly as strong. Christopher Nolan has always put the story and character development first, so I have to trust his judgement. Momento, The Following, Batman Begins, and The Prestige all demonstrated those tireless efforts. The Joker appears to be the leading focus in this movie, I hope introducing any of the story about Two-Face and Harvey Dent (Aaron Eckhart) doesn't muddle things up.
The proverbial "Bat" is out of the bag. There will be small things to look forward to in the coming months for the The Dark Knight movie, but now the countdown starts for the major motion picture release. Hopefully the amazing viral campaign continues to deliver new bits of information to keep the Batman fanbase foaming at the mouth.
Here are some similar arcade posts
If you enjoyed this post, please consider to leave a comment or subscribe to the feed and get future articles delivered to your feed reader.