Wow. I keep saying that "this" is the best image of the Joker to date, but truly, this first poster with the Joker and the city just speaks to my design sensibilities. Seriously, the color, the mood, everything, how perfect is this poster? I don't know if this is fake or not, all of these images were reported on "rated-m.com", but even if this is fake, I know I have to have a copy of this poster.

~Edit – Just Added! This Batman Poster is the perfect companion to the Joker poster. How awesome would these looked framed side by side in the movie / entertainment / game room of your house. A must have!

This is an awesome poster of the Joker also, very fitting and scary.

With some much press on Ledger's Joker I am still kind of hoping to be surprised in regards to Two-Face. But with over 7 months to go, I am not going to be naive. If the story does set things up that this movie is about the Joker and Heath Ledger, and act 3 is about Two-Face and Harvey Dent, let's just hope that Nolan sticks with the Batman and doesn't get the "3 movie burnout" which seems to be so common with these franchises.
Oh yeah, and some footage and the Dark Knight trailer was leaked today. Is it what we will seen in front of I Am Legend? I am not sure.
~Edit Here is more information about that Dark Knight footage, and this is a good explanation of the two different "trailers". Here is what John Bierly had to say ;
If you go see Will Smith's I Am Legend at a regular theater this weekend, you'll get to see the first trailer for the July 18 Batman Begins sequel, The Dark Knight.

If you go see I Am Legend on IMAX, you won't get the trailer but you will get to see the first few minutes of The Dark Knight in glorious IMAX. It's a prologue of sorts, featuring a bank robbery executed by The Joker (Heath Ledger) and his goons.

And though the IMAX Joker prologue won't arrive online, it looks like the trailer will be popping up on "A Taste For The Theatrical.com" on Sunday.
What to do! The desire to see it now on IMAX is stronger than ever! But at what cost? $25 for 6 minutes of joy?
On a related note, here are two fake Two-Face images that I am seeing for the first time. The original of the first image can be seen on IMDB. (Thanks John) I am told the second Two Face image is of Eckhart from Black Dahlia.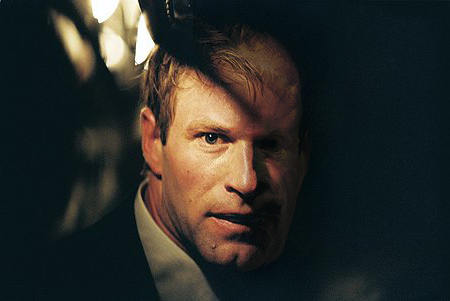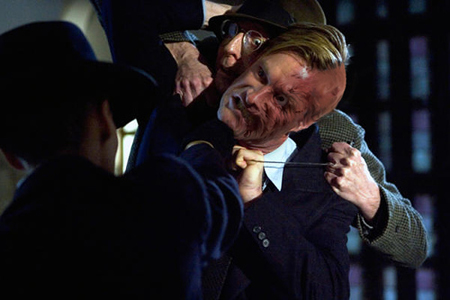 Here are some similar arcade posts
If you enjoyed this post, please consider to leave a comment or subscribe to the feed and get future articles delivered to your feed reader.