On my long to do list of small arcade maintenance activites, here is a photo of my Pengo.

I think the previous owner of this Sega Pengo also couldn't figure out how to tone down the sound on the game, so they tapes something over the speaker and left it for quite some time. You can see the thick resilient masking tape residue.
Here is what you will need, pretty simple actually.
A bottle of Goo Gone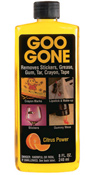 A Scotch Brite pad

I started out with a rag and soaked it with Goo Gone, dabbing it on the residue. But I wasn't able to apply it as thick as I wanted.
Then I figured out to soak the Scotch Brite pad and then apply it to the underside of the cabinet to start to break down the masking tape remnants.
Then, carefully after a few minutes, I scrubbed carefully in a circular motion (not pressing too hard so I didn't make tiny scratches in the paint) until most of the residue was gone. Here is the underside of the Pengo cabinet under the marquee after I was finished. It isn't perfect, but it is a lot better and satisfactory for me.

Here are some similar arcade posts
If you enjoyed this post, please consider to leave a comment or subscribe to the feed and get future articles delivered to your feed reader.