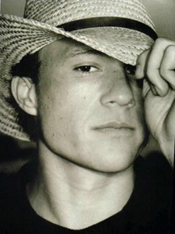 I was shocked to hear about this tragic death. Heath Ledger passed away yesterday….I am just, in disbelief. Of course the jackyl media is all over the story, trying to pin drugs and other fame tortured causes to Ledger's passing. But you know it has to just be an accident.
What does this mean for The Dark Knight? I won't add any new ideas to this news story, but you have to believe that Warner will still release the movie, it is too big of a money maker (sad, but true) to not. Too much investment.
And Ledger will be awesome as the Joker. This will be his crowning achievement, or at least I hope it will be regarded as the best role he ever took on over any movie. (edit – content removed)
10 Things I Hate was a fun movie, he was good in Patriot, and as a whole, he was a very talented actor. The media is make these claims that he was "poised" to be the "New Hollywood", but how can they make a call like that? One thing is for sure, his success would have grown, and Heath is yet another example of "only the good die young".
Heath Ledger's death, probably due to an incorrect dosage of medication, reminds me somehow of Brandon Lee, even though the circumstances are wildly different.
This may be great publicity for The Dark Knight. I just hope Warner doesn't take advantage of the situation and add some sort of label to the movie as a marketing ploy, that it was Ledger's last film. Especially since we know how much respect Christopher Nolan had for Ledger. Nolan would never allow that, and this whole situation could be even more devastating if not handled correctly.
As a entertainment consumer, I will miss you Ledger.
Here are some similar arcade posts
If you enjoyed this post, please consider to leave a comment or subscribe to the feed and get future articles delivered to your feed reader.