Common question on the set of any Brad Pitt movie I am sure, but in this case, my two Vision Pro monitors arrived from Happ on Monday.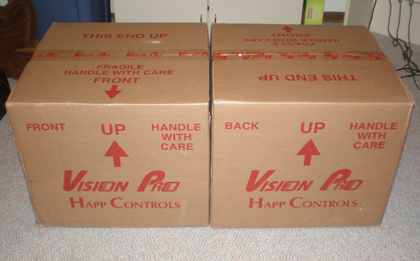 I got two monitors in the mail on Monday (one's for a friend). Where's the original arcade related information you ask? This post is specifically for any other collectors here in Indianapolis, Indiana to gauge how much shipping and tax would be to buy your very own Happ 19″ Vision Pro while they are still on sale this month. It isn't a knock 'em sock 'em robots deal, but it's better than usual. Here's the breakdown shipped to 46227.
Flat Monitor Cost – $270
Shipping – $36.99
Tax – $18.42
Oh, and I should mention I put in my order on Friday, and my monitors shipped that afternoon and arrived at my home residence on Monday afternoon! Granted, I believe Happ has a distribution center in Chicago, but I was very happy with the expediency and thrilled the monitors arrived free of damage.
Here are some similar arcade posts
If you enjoyed this post, please consider to leave a comment or subscribe to the feed and get future articles delivered to your feed reader.