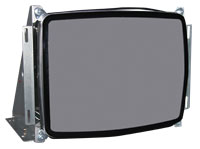 Got a call today from the local Happ representative, Jill Reams. I had contacted her a couple of times this month to see if Happ Vision Pro monitors would be going on sale again anytime soon. She gave me a call today and let me know that they are on the sale flyer for the month of February 2008 for $135 plus shipping. (I believe they ship out of Chicago) If you buy four or more you can get them for $130 price point.
I will be getting at least one this time around, if not two, another one for a friend on his behalf. The last time they were on sale I believe was last October, and at the time I didn't think it was a good decision to get one. I have one brand new Vision Pro 19″ in my Jr. Pac-man, and you just can't beat that brand new monitor. The one I am getting this time around will either go in my Pengo, which has an old, crappy, Electrohome with a good amount of Pac screen burn, or in my Mame machine that maybe one day I will finish.
Get yours now, this is a pretty good deal. I think they come out to about $150 with shipping if I remember right.
Here are some similar arcade posts
If you enjoyed this post, please consider to leave a comment or subscribe to the feed and get future articles delivered to your feed reader.